Pond Tours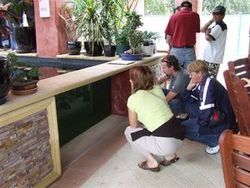 We hold one or two pond tours each year. Please see the Homepage for dates.

Tours are held to showcase our member's ponds, and are a great opportunity to get ideas for your own pond. Two or three homes are usually included in each tour.

Addresses are provided in the newsletter, and each member makes his/her own way to each house. Homes in each tour are usually located within the same area, to avoid extensive travel times.

Morning tea is provided on each tour followed by a BBQ lunch at the final pond destination. It is normal for the KSWA to fund the BBQ, however please check the latest newsletter or the web site to ensure it is not BYO meat/sausages. Cool drinks are also provided. Members are asked to consider their safety and elect a skipper for the day if they are indulging in a few beers!