Southern Branch Meetings - South Perth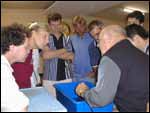 Southern Branch Meetings are held on the 4th Wednesday of each month (excluding December). Please see the Homepage for dates.

WHERE AND WHEN?

7:30pm
Willetton Pavilion - Willetton Reserve,
Apsley Road, Willetton

Southern Branch Meetings are a great opportunity to meet other koi owners, ask questions about your pond, and find out what is happening in the Society.

Guest speakers attend some meetings, from varying fields of expertise - from pathologists to government researchers.

The Sales Table and Library are both open at meetings.

Please see the Committee page for list of committee members.

Tea, coffee and biscuits are provided at each meeting.
Table Show
A Table Show is held at each Southern Branch Meeting. Please see the Table Show page for more information.
Southern Branch Meeting Mini-Auction
Members occasionally bring along koi or products (such as filters or airpumps) they wish to auction. The auction is held during the meeting, and a small percentage of the sale price goes directly to the Society. If you would like to auction something at a meeting, just bring it along on the night.