Show Information for Members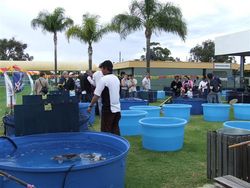 Members will find here everything they need to know about competing in the KSWA Annual Koi Show.

Show Helpline: 0428746620 (for advice or help about any aspect of the Show)

Admission to visit the Show is now FREE FOR ALL.

General information about the Show is available on the Annual Koi Show page.


How Do I Compete?
1. Read through the Show Entry Pack - available on the Forms & Procedures page.
This document contains everything you need to know about the rules, closing dates, tips on preparations, entry forms, varieties, and who to contact if you need help.

2. Also read through the Table Show Rules - available on the Forms & Procedures page

3. ENTER USING OUR ONLINE ENTRY FORM (click link or button below), or bring 1 photo per fish to any meeting and we will enter it for you!




Frequently Asked Questions
I'm under 16 but would like to enter a class other than "Junior Exhibitors Prize" - is this possible?
Yes, if you pay for a full membership you can enter any class you wish to. If you only have a Junior membership, you are only able to enter the "Junior Exhibitors Prize"


Trophy Night
Trophies are presented at our annual Trophy Presentation Dinner, which is held the Monday night immediately after Show Day.

Please see the May newsletter for venue, times & RSVP information.